It is sometimes the case that the same transition should be made for a given signal in all state, except for some states, of a process graph. This can be expressed as shown in the example, below: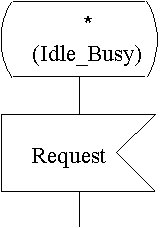 The signal Request initiates the same transition for all states of the process graph, except for Idle and Busy. (The transitions for these states must be given separately.)
The asterisk alone is a special case, meaning all stales.